Getting a Head Start for Your First Semester at University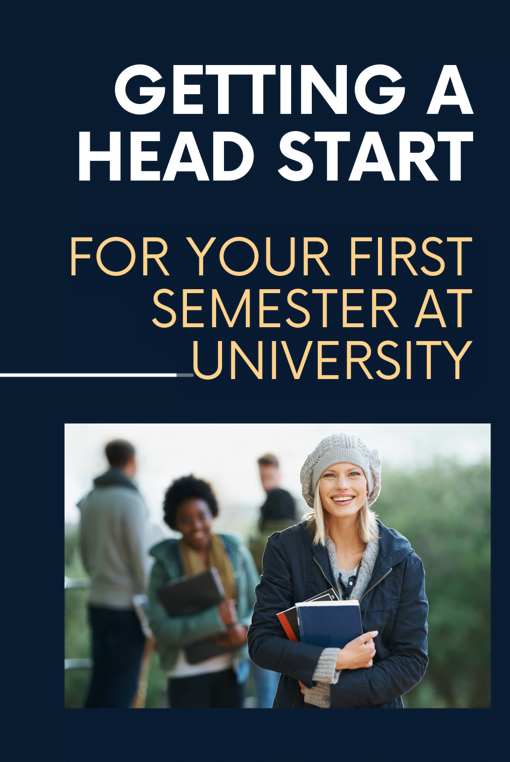 Starting university is a major life transition – even the most academically well-prepared students (like you!) may find that adjusting to the new learning environment, course workload, freedom and responsibilities of university life may involve some challenges.
To support your transition, here are a few steps to help you prepare for your very first semester at university.
Get organized: The first step to manage your stress throughout the school year is to be in control of your academic responsibilities. If you receive your syllabi before the first day of class, read through it carefully taking note of important deadlines and exam dates. You can use your smart phone to create a digital planner to keep track of projects so that you can identify scheduling conflicts because of work and or family obligations.
Textbooks: Don't wait until you receive your first reading assignment to head to the bookstore. You can determine whether you will buy or rent books before your first class. If possible, try to connect with your instructors a few weeks before school starts so that you can determine your required readings. If you are motivated, you can read the first chapter to get acquainted with the course material before your first class.
Adjust to a new schedule: The addition of schoolwork classes and commuting can be overwhelming at first especially when you are already juggling work and family responsibilities. Adding classes to your weekly schedule will force you to establish in morning an evening routine that allows you to stay refresh and focus all day. When you are adjusted to your new routine you will be better able to manage your schoolwork in addition to other responsibilities.
Finances: There are several scholarships, awards, prizes, and bursaries that you can apply for.
A scholarship is an award of financial aid for a student to further education. Scholarships in Canada are awarded on various criteria, usually reflecting the values and purposes of the donor of the award. Scholarship values can range from a few hundred dollars to full payment of all tuition and student fees. However, the most awarded scholarships have values of $1000-$5000 per year.
Merit-based scholarships in Canada include both scholarships awarded by the individual college or university and those awarded by outside organizations. Merit-based scholarships are typically awarded for outstanding academic scores (generally an average of at least 80%), although some merit scholarships can be awarded for special talents, leadership potential, or other personal characteristics. Scholarships may also be given because of group affiliation (e.g., YMCA). At most post-secondary schools in Canada, admitted students are automatically considered for merit scholarships. Scholarships do not need to be repaid as long as you meet all scholarship requirements.
Student-specific scholarships are special types of scholarships where applicants must initially qualify by race, gender, religion, or family history. Minority scholarships such as those awarded to First Nations students are the most common type.
Post-secondary school awards career-specific scholarships to students planning to pursue a specific field of study. Often the largest awards are given to students pursuing careers in high-need areas such as education or nursing. Nursing students are in high demand, and many schools will give future nurses full scholarships to enter the field, especially if the student intends to work in a high-need or remote community.
Athletic scholarships are a form of merit aid that takes athletic talent into account. In Canada, athletes can only get funding once they enter their second year of school (entrance scholarships are not available, unlike in the United States). Even then, no one student can receive the bulk of the award; it has to be shared among the team members equally.
How to access your RESP to pay for your education
the beneficiary or first year student must enrol in full – or part-time studies at an eligible school (in Canada or abroad). …
the subscriber (or parent / grandparents…etc.) must request the Educational Assistance Payment or EAP from the RESP promoter (investment company e.g., Mandeville PC).
the beneficiary must provide the RESP promoter (MPC) with official proof of enrolment (letter of acceptance, tuition invoice…etc.)
Because the promoter is responsible for administering the RESP in accordance with the Income Tax Act, your RESP promoter determines what is considered a reasonable expense. Any expense that is in accordance with the Act and the terms of the plan would be considered reasonable.
Have a plan. Set a few short term and long-term goals that will help you stay focused and motivated when things get tough. Then strategize a few manageable steps that will help you achieve each goal for example allow yourself one to two hours a few nights a week to study or catch up on homework keeping your long-term goals of achieving an A or B on your exam.
Get involved. The first few weeks of the semester at the perfect time to connect with your new classmates and peers. Forming study groups will help you get to know your classmates and also help you to prepare for exams. Additionally look for opportunities at campus or within your community that will help advance your personal and professional goals such as tutoring or volunteering.
Making the extra effort to prepare for your first few weeks of school will help set the tone for a productive semester and puts you on the right track to achieving your goals.
Leric Bishop
Associate Investment Advisor
Sources: https://www.canadian-universities.net/Scholarships
https://www.herzing.edu/blog/5-tips-help-you-prepare-new-semesterhttps://www.canada.ca/en/services/benefits/education/education-savings/paying-education.html#_docu