Wealth is created not only in the public markets, but also by private businesses.
The Ontario exempt market raised $91.61 billion in capital in 2017. The world's most successful institutions and high net worth investors have been investing in this space for generations and have achieved above average rates of return utilizing an asset mix combining traditional and private and alternative investments.
The largest and most successful institutions in the world like the Canada Pension Plan (CPP) which manages over $539 Billion for the benefit of every Canadian has altered their asset mix in recent years to include private/alternative investments.
Source: https://www.osc.ca/sites/default/files/pdfs/irps/rule_20181129_45-716_exempt-market-report.pdf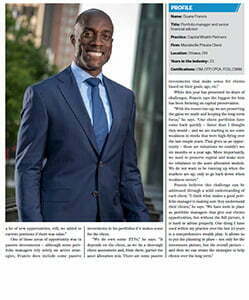 Duane Francis has built his approach around the concept of giving his clients access to the types of investments used by endowments and pension plans.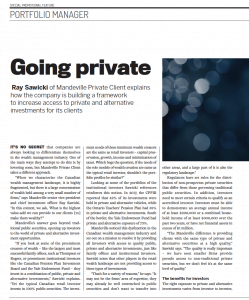 Invest like the most successful institutions and high net worth investors.
| | 1 year | 10 years | 20 years |
| --- | --- | --- | --- |
| Yale Endowment Fund* | 0.8% | 12.0% | 11.3% |
| S&P 500 Index** | (12.4%) | 12.0% | 11.3% |
*The returns of the Yale Endowment Fund are provided for illustrative purposes only. Since the fund does not necessarily invest in the same securities as the benchmark or in the same proportion, the performance of the fund may not be directly comparable to the
benchmark. In addition, the fund's performance returns reflect the use of leverage.
*https://news.yale.edu/2021/10/14/yale-endowment-earns-402-investment-return-fiscal-2021
**As at June 30, 2022, Bloomberg
Canada Pension Plan (CPP) current mix:
Private/Alternative Investments
Other Institutions like Yale, Omers, Ontario Teachers' Pension plan have all expanded their mandate to include private and alternative investments and have achieved significant returns.
%
Private/Alternative Investments
Ontario Municipal Employees' Retirement System (OMERS)
%
Private/Alternative Investments
Ontario Teachers Pension Plan (OTTP)
%
Private/Alternative Investments
Private and Alternative Investing as a complement to your public portfolio should be carefully considered with your Mandeville advisor.​
Private and Alternative Investing is an uncorrelated asset class, which can provide a source of diversification, and dampened volatility to the rest of your public portfolio.​
Private and Alternative Investing can be illiquid for periods of time (meaning you cannot redeem your investment if you need it – days, weeks, months and sometimes years).​
Private and Alternative Investing can be illiquid and aims to take advantage of any "illiquidity discounts"