Investing 101 & Year End Tax & Finance Tips for Business Owners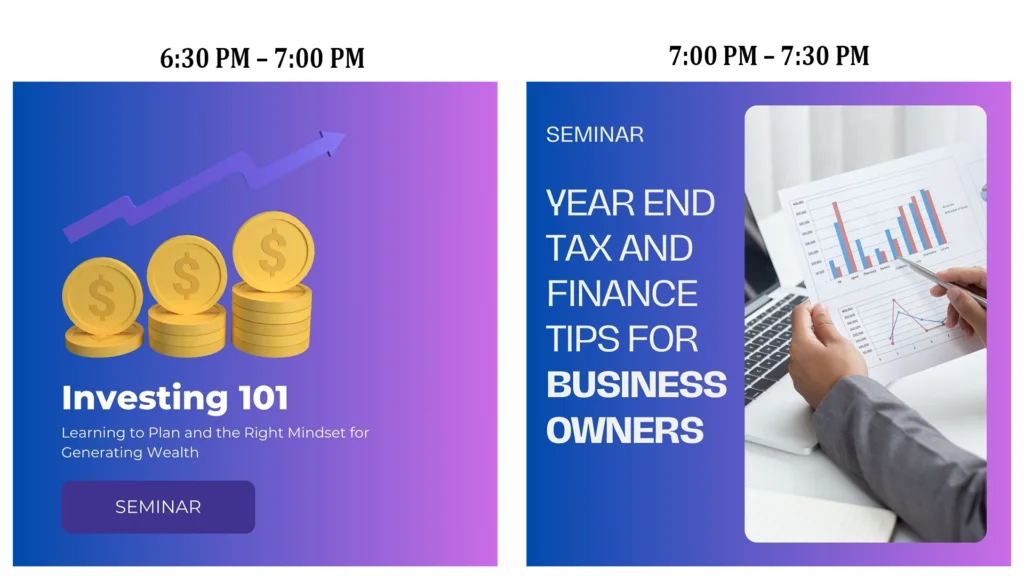 Wednesday, November 22, 2023
Location: In Person at 1545 Carling Ave, Main Floor
or via Zoom Live Stream
Time: 6:30 p.m. – 7:30 p.m. (EST)
Join me as I host a multi topic seminar session discussing Investing 101-Learning to Plan and the Right Mindset for Generating Wealth. Please feel free to extend this invitation to your children and/or grandchildren as it will be a great educational session. The second seminar topic will start at 7pm, and I will discuss Year End Tax & Financial Tips for Business Owners which will elaborate on year-end tax opportunities that can make a real difference to the short and long-term financial health of your business and personal finances in 2024. These two sessions promise to be informative and I will provide you with the opportunity to ask questions after each presentation. Please send your RSVP by Monday, November 20th to Feda Shureih by calling 613-728-0101 ext. 221, by email to fshureih@mandevillepc.com or by signing up below. 
Coffee & Dessert will be served to in person attendees.
I hope to see you there.
Your host,
Duane Francis