Evening Seminar with James Cole, Portfolio Manager of Award Winning Funds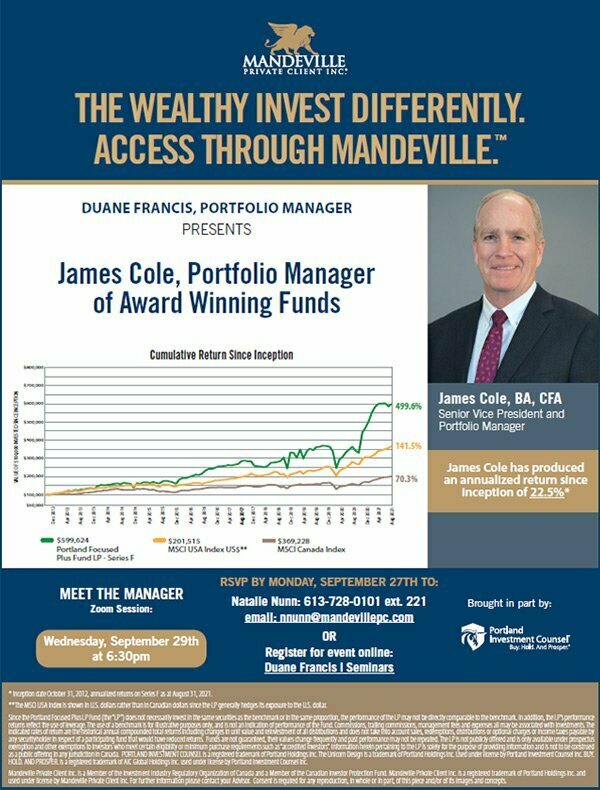 posted: 22 September 2021
Date: Date: Wednesday, September 29th, 2021
Time: 6:30 pm
Location: Zoom Meeting
At Mandeville, we have a differentiated approach in that we have the ability to provide you with access to solutions that are typically only available to the affluent and institutional investor. One of these solutions in particular has provided 499.6% cumulative returns since its inception! The individual behind these staggering numbers is Portland Investment Counsel Inc.'s James Cole.
It is with great pleasure that we welcome James to speak on the evening of Wednesday, September 29th, 2021 to share his insights on wealth creation with our valued guests. James adheres to strict, yet repeatable, wealth creation principles and he will be presenting his methods and theories, while sharing his insight and experience. He is also a very candid speaker.
Given today's market volatility this is a very timely opportunity to listen to and ask questions with one of Canada's top portfolio managers.
This Zoom presentation will take place on Wednesday, September 29th. Please send your RSVP by Monday, September 27th, to Natalie Nunn by calling 613-728-0101 ext. 221 or by email to nnunn@mandevillepc.com or by signing up below. Once you have signed up, a Zoom meeting invite will be emailed to you.
I hope to see you there!